BEYONCE'S SUPER BOWL SONG LIST
Months before Beyoncé upset millions of Americans by singing over a previously recorded track at the presidential inauguration, someone asked her to sing songs at the Super Bowl. Now Us Weekly has gotten its hands on her rumored set list. Crazy in Love, Bills Bills Bills, Survivor, and Nuclear. And if she doesn't sing every note live, football in America will be canceled forever. We're counting on you, Beyoncé.

J.J. ABRAMS WILL DIRECT THE NEXT STAR WARS FILM
Sources confirm J.J. Abrams will direct the next Star Wars film for Disney. Argo director Ben Affleck was also in contention... Back in mid-November Abrams said he had no interest in directing Star Wars... Disney has scheduled Star Wars for a 2015 release.
HALLE BERRY PUT HER BOOBS IN A GUACAMOLE BOWL, AND ONE LUCKY MAN WAS THERE TO WITNESS THE MOMENT
Halle Berry dipped one of her breasts into a bowl of guacamole for a scene in the new film, "Movie 43."
The new film is made up of several short stories and the cast also includes Hugh Jackman, Kate Winslet, Richard Gere and Naomi Watts.
The film's producer said the film promises to be the year's raunchiest comedy and added, "What shocked me is both of these ladies pushed for more."
He added, "Halle Berry called me and said, 'I thought you said this is a hard R. It's too soft.' So, we came up with a scene where she puts her breasts in guacamole... she couldn't have been more fun to work with."
By the way, Halle Berry's scene is about a couple who play "Truth or Dare" on a first date.
KATIE HOLMES USES SNAIL SLIME TO KEEP HER SKIN IN TOP CONDITION
Katie Holmes uses a product on her skin that contains snail slime.
A friend says the actress uses face creams containing mucin which is a snail extract. The friend says Katie loves it and it does wonders on her skin.
The creams containing snail slime have been popular in Korea and Africa for a few years. Now. brands such as Missha, Dr. Jart+ and Labcconte are selling them in the US.
IN THEATRES THIS WEEKEND-- OPENING IN WIDE RELEASE
Hansel & Gretel: Witch Hunters (-R-)
5 years after siblings Hansel and Gretel hatched their escape from a child-snatching witch who changed their lives forever. Now they have come of age. Stars Jeremy Renner, Gemma Arterton, Famke Janssen. (PROJECTION: $25 MIL.)


Movie 43 (-R-)
Comedy mocking, and offending everyone. Stars Elizabeth Banks, Gerard Butler, Kieran Culkin, Hugh Jackman, more. (PROJECTION: $10 MIL.)


Parker (-R)
Parker is a professional thief who lives by a personal code of ethics: Stars Jason Statham, Jennifer Lopez. (PROJECTION: $8-$10 MIL.)
DOPING, YES. 'DANCING', NO, FOR LANCE ARMSTRONG
Lance Armstrong turned down "Dancing with The Stars"-- again.
Sources say producers asked the cyclist to be on this season but he said no.
Producers have asked Armstong to be on the show every year since it started, but he keeps saying no.
LADY GAGA AND TONY BENNETT COLLABORATING ON AN ALBUM TOGETHER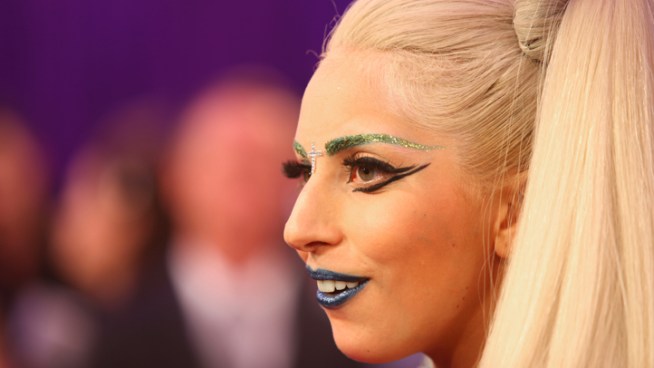 Lady Gaga and Tony Bennett are teaming up to work on an album.
Gaga Tweeted after her and Bennett played at the inaugural ball for Obama campaign staffers.
She wrote: "I had the most amazing evening with The President, First Lady and The White House staff. And here's a pic of me and my handsome date. I simply cannot wait for our album together, he's my darling!"
The two of them worked together on a version of "The Lady Is a Tramp" for his "Duets II" album.
BARRY MANILOW WANTS TO DUET WITH LADY GAGA, THINKS "SHE'S GREAT"
Barry Manilow wants to collaborate with Lady Gaga.
He said: "What I love about her is that she's so mature for a young girl. Her advice to people, you know, is just beautiful. She must be raised by a great family. She's a real singer, she's a real musician, it all comes through. I think she's great."
No word on if Lady Gaga is game.
ANGELINA JOLIE PREGNANT AGAIN?
The current issue of Star Magazine features the cover story, "Angelina I'm Pregnant Again." In an explosive exclusive report the magazine claims that Angelina Jolie is pregnant again. Angelina and her fiance Brad Pitt already have three biological children and have adopted three children, so this would make baby number 7.

... The magazine goes on too claim that Angelina is three months pregnant and Brad has leaked the news that the new baby is a boy to his friends.